Alcatel | Avaya | Nortel | Mitel | Siemens
The speaker of your phone is dysfunctional but manufacturer's warranty became invalid? Or is there a connection problem with your board?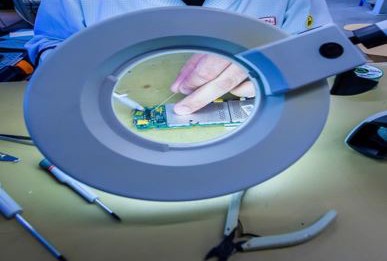 A new purchase is a big investment and uneconomical on lager volumes. We eliminate your technical difficulties thanks to our four-phased process: Send in your dysfunctional devices, we test them, eliminate the occurring errors, run another test in order to guarantee the proper functioning and send the devices right back to you. The particular feature is: each and every repair work has its own fixed rate. In case the device is irremediable, we do not charge the repair attempt. In case the entire repair order is irremediable, we only charge a small lump sum.
After our repair work, we assign a 6 month warranty. On each and every device there is a small sticker with a barcode and a guarantee number written on it (DSxxxxx, DGxxxxx).
You can enter this number here and receive your warranty's date of expiry.
Standard repair time is between 5 and 10 working days, depending on the amount. We also offer express repair and advance exchange. On request, we also send the repaired items with a neutral delivery note directly to your end customers.
– Over 80.000 reparations per year
– 6 month warranty
– No RMA voucher necessary
– Refurbishment possible for an extra charge
Refurbishment
Your equipment still works, but looks unhygienic? They have been in use for years and already show some signs of use? We gladly refurbish the equipment for you and clean everything. Depending on the manufacturer, we have spare parts in stock or can procure them. This means that housings and keyboards can be replaced in order to look almost as good as new.
Please send us an individual request here with the respective telephones. We will be happy to provide you with a very individual offer with three different levels of refurbishment possible.
Professional cleaning
Packing in neutral individual boxes
Installation of devices and spare parts possible
Reparation possible for an extra charge